Please consider printing and bringing your Merit Badge Worksheet with you to camp!
If you are interested in being a Merit Badge Counselor at AdvanceCamp Click Here
AdvanceCamp provides scouts with the opportunity to complete advancement begun at another scout event, to start and complete advancement with the completion of all requirements during the camp, or to begin work on and make a contact with a counselor to complete a merit badge at a later time.
You are encouraged to use merit badge worksheets available at usscouts.org. As explained in the worksheets, these are tools that help you jot down ideas after you read through the merit badge pamphlets to remind you to ask your merit badge counselor for more information during your time working on the badge. You are encouraged print out the worksheets for each merit badge you plan to work on and bring them along with you to camp.
Special Requirements: Many Merit Badges require that the scout have permission slips, special clothes or shoes, extra clothes, etc. Please check the details of every Merit Badge and make sure that your scouts are prepared to work on that badge.

Swimming: Scouts going for the Swimming MB, Lifesaving MB or Trailhead Swimming. IT IS NOT an instructional class to teach you how to swim, but a verification of your swimming skills and knowledge. Be sure to bring a change of clothes for some of the requirements.

Search & Rescue, Robotics, Archery, Climbing, Aviation, Plumbing, Programming and Welding will carry an additional $25 fee. Partial Archery is $10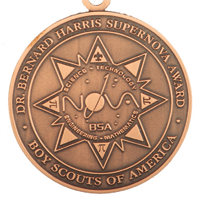 Go for the NOVA Award! The Boy Scouts of America's NOVA Awards program incorporates learning with cool activities and exposure to science, technology, engineering and mathematics. AdvanceCamp offers many merit badges required for the NOVA Award. Click here for more information
Want to complete your merit badge at camp? Find out what items you need to complete before coming to camp. Click Here
We may need to delete or add Merit Badges based on the volunteer Merit Badge Counselor availability.
We will also be offering a Partial Merit Badge Booth from 8:30am until 4:30pm for items that you have completed and just need to be verified and checked off. No appointment necessary. The longest wait times will be 11:30am-1:00pm and 2:30pm-4:30pm. This is a drop-in, first come first served opportunity on the Expo Lawn West. Please be prepared with the following items: Partial Blue Card, Merit Badge worksheet completed, Merit Badge booklet and any other completed work needed to demonstrate a requirement. If an activity is needed, please complete the Activity Verification Form.